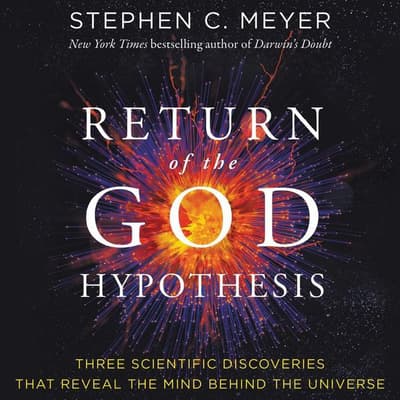 Format :

Retail CD

(In Stock)
Available on 03/30/2021

ISBN: 9781982662486

Available on 03/30/2021

ISBN: 9781982662479

Available on 03/30/2021

ISBN: 9781982662493
Category:
Nonfiction/Science
Audience:
Adult
Language:
English
Summary
The New York Times bestselling author of Darwin's Doubt and Intelligent Design scholar presents groundbreaking scientific evidence of the existence of God, based on breakthroughs in physics, cosmology, and biology.
In 2004, Stephen C. Meyer, one of the preeminent scientists studying the origins of life, ignited a firestorm of media and scientific controversy when a biology journal at the Smithsonian Institution published his peer-reviewed article advancing the theory of Intelligent Design. Then, in his two bestselling books, Signature in the Cell and Darwin's Doubt, he helped unravel a mystery that Charles Darwin did not address: how did life begin? and offered further scientific proof to bolster his arguments on the history of life and our origins, concluding that life was designed.
In those previous books, Meyer purposely refrained from attempting to answer questions about "who" might have designed life. Now, in The Return of the God Hypothesis, he brings his ideas full circle, providing a reasoned and evidence-based answer to the ultimate mystery of the universe, drawn from recent scientific discoveries in physics, cosmology, and biology.
Meyer uses three scientific points to refute popular arguments put forward by the "New Atheists" against the existence of God:
The evidence from cosmology showing that the material universe had a beginning.
The evidence from physics showing that, from the beginning, the universe was been "finely tuned" to allow for the possibility of life.
The evidence from biology showing that since the universe came into being, large amounts of genetic information present in DNA must have arisen to make life possible.
In analyzing the evidence from these three fields, Meyer reveals how the data support not just the existence of an intelligent designer of some kind—but the existence of a theistic creator.
Editorial Reviews
"A marvelous compendium of indisputable scientific evidence in support of the existence of God."
—
Dr. Marcos N. Eberlin, professor of chemistry, Mackenzie University, Thomson Medalist, Brazilian Academy of Sciences
"Dr. Meyer does a superb job in accurately describing the physics and cosmology that show the universe had a beginning. He also convincingly shows that quantum mechanics will not eliminate a cosmological singularity."
—
Dr. Frank Tipler, professor of physics, Tulane University
"Meyer writes beautifully. He marshals complex information as well as any writer I've read."
—
Dean Koontz, #1 New York Times bestselling author, on Darwin's Doubt
Details
Available Formats :
Retail CD, Library CD, MP3 CD
Category:
Nonfiction/Science
Audience:
Adult
Language:
English
To listen to this title you will need our latest app
Due to publishing rights this title requires DRM and can only be listened to in the Blackstone Wholesale app
DRM (Digital Rights Management) is a copyright protection for digital media. While much of Blackstone Wholesale's content is DRM free, and allows for usage across platforms, select products on Blackstone Wholesale are required by publishers to have DRM protected files. These products will be playable exclusively on the Blackstonewholesale.com apps, available for iOS and Android devices.