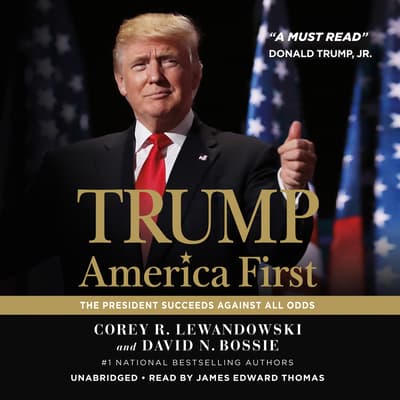 Format:

Library CD

(In Stock)
Category:
Nonfiction/Political Science
Audience:
Adult
Language:
English
Summary
New York Times bestselling authors and close advisors to the president Corey R. Lewandowski and David N. Bossie write from the front lines of Trump's battle to Make America Great Again.
Trump: America First gives the reader a firsthand and inside account of the Trump administration's battle for the soul of America.
Details
Available Formats :
Library CD
Category:
Nonfiction/Political Science
Audience:
Adult
Language:
English
To listen to this title you will need our latest app
Due to publishing rights this title requires DRM and can only be listened to in the Blackstone Wholesale app
DRM (Digital Rights Management) is a copyright protection for digital media. While much of Blackstone Wholesale's content is DRM free, and allows for usage across platforms, select products on Blackstone Wholesale are required by publishers to have DRM protected files. These products will be playable exclusively on the Blackstonewholesale.com apps, available for iOS and Android devices.