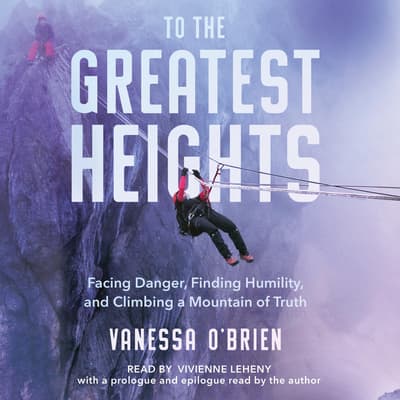 To the Greatest Heights: Facing Danger, Finding Humility, and Climbing a Mountain of Truth
Unabridged
Format :

Retail CD

(In Stock)
Available on 03/30/2021

ISBN: 9781797107882
Category:
Nonfiction/Biography
Audience:
Adult
Language:
English
Summary
This riveting and uplifting memoir by Vanessa O'Brien, record-breaking American-British explorer, takes you on an unexpected journey to the top of the world's highest mountains.

Long before she became the first American woman to summit K2 and the first British woman to return from its summit alive, Vanessa O'Brien was a feisty suburban Detroit teenager forced to reinvent her world in the wake of a devastating loss that destroyed her family.

Making her own way in the world, Vanessa strove to reach her lofty ambitions. Soon, armed with an MBA and a wry sense of humor, she climbed the corporate ladder to great success, but after the 2009 economic meltdown, her career went into a tailspin. She searched for a new purpose and settled on an unlikely goal: climbing Mount Everest. When her first attempt ended in disaster, she trudged home, humbled but wiser. Two years later, she made it to the top of the world. And then she kept going.

Grounded by a cadre of wise-cracking friends and an inimitable British spouse, Vanessa held her own in the intensely competitive world of mountaineering, summiting the highest peak on every continent, and skiing the last degree to the North and South Poles. She set new speed records for the Seven Summits, receiving a Guinness World Record and the Explorers Grand Slam, and finally made peace with her traumatic past. During her attempt on K2, she very nearly gave up. But on the "savage mountain," which kills one out of every four climbers who summit, Vanessa evolved from an adventurer out to challenge herself to an explorer with a high-altitude perspective on a changing world—and a new call to share her knowledge and passion across the globe.

Told with heart and humor, Vanessa's journey from suburban Detroit to Everest's Death Zone to the summit of K2 and beyond, is a transformative story of resilience, higher purpose, and the courage to overcome any obstacle.
Editorial Reviews
"O'Brien pours her unflagging energy and hard-won life wisdom into every aspect of her book …A vicariously engaging addition to the literature on mountaineering as well as a beacon of inspiration in these dark times. O'Brien's warm, witty voice will bring a wide audience to her world-class adventures."
—
Kirkus Reviews (starred review)
"Thrilling…O'Brien makes readers feel as if they're on the mountain with her through her vivid descriptions and detail…Readers will devour O'Brien's sensational, electrifying tale."
—
Publishers Weekly
"What a wonderful, honest, refreshing book, full of free spirited adventure, humor, and profound thoughts to provide inspiration to anyone who simply dreams of getting out and doing their own thing."
—
Sir Chris Bonington, world famous mountaineer and internationally bestselling author of Ascent
Details
Available Formats :
Retail CD
Category:
Nonfiction/Biography
Audience:
Adult
Language:
English
To listen to this title you will need our latest app
Due to publishing rights this title requires DRM and can only be listened to in the Blackstone Wholesale app
DRM (Digital Rights Management) is a copyright protection for digital media. While much of Blackstone Wholesale's content is DRM free, and allows for usage across platforms, select products on Blackstone Wholesale are required by publishers to have DRM protected files. These products will be playable exclusively on the Blackstonewholesale.com apps, available for iOS and Android devices.