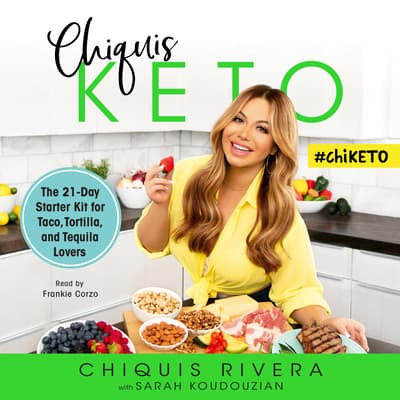 Format:

Retail CD

(In Stock)
Category:
Nonfiction
Audience:
Adult
Language:
English
Summary
The New York Times bestselling author and beloved star of NBC Universo's The Riveras presents a delicious and satisfying new take on the keto diet for Mexican food lovers who want to get fit without sacrificing the rich staples of their favorite cuisine.

Chiquis Rivera has tried almost every diet out there, eventually getting bored or tired when the restrictions were just too much. That's why she teamed up with her personal trainer, Sarah Koudouzian, to invent Chiquis Keto, a diet that helps her stay healthy while still enjoying her favorite dishes! Now, the actress and author wants to help you get the same results she did—all while still having everything from tacos to tequila—with this delicious cookbook, Chiquis Keto. (Or, as she calls it, Chi-Keto!)

Growing up Latina means tortillas, chips, and rice and beans served with a side of everything. But with Chiquis's program, the keto-style recipes will keep you grain-free, eating good quality fats, moderate protein, and no more than fifty grams of carbs a day—all without compromising the nutritious and incredibly delicious flavors of the food you love.

Chiquis Keto is a 21-day kick start to weight loss featuring more than sixty recipes for breakfast, lunch, dinner, snacks, and even some alcoholic keto cocktails. From huevos rancheros to lettuce-wrapped chicken tacos to Mexican hot chocolate pudding, you will have fresh and flavorful recipes for every day. Plus, as a bonus, Sarah will share her week-by-week fitness routine to help you tighten your curves! Kick off on your weight loss journey with this mouthwatering and colorful cookbook and workout routine and enjoy the incredible results and increased mental, physical, and energy levels.
Details
Available Formats :
Retail CD
Category:
Nonfiction
Audience:
Adult
Language:
English
To listen to this title you will need our latest app
Due to publishing rights this title requires DRM and can only be listened to in the Blackstone Wholesale app
DRM (Digital Rights Management) is a copyright protection for digital media. While much of Blackstone Wholesale's content is DRM free, and allows for usage across platforms, select products on Blackstone Wholesale are required by publishers to have DRM protected files. These products will be playable exclusively on the Blackstonewholesale.com apps, available for iOS and Android devices.