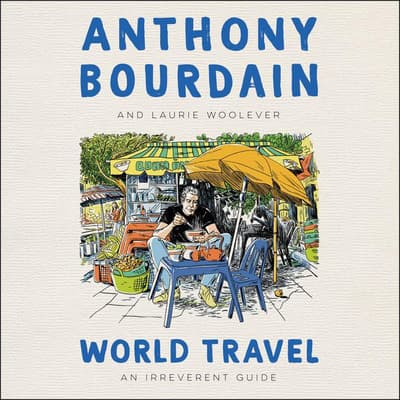 Format :

Retail CD

(In Stock)
Category:
Nonfiction/Travel
Audience:
Adult
Language:
English
Summary
A guide to some of the world's most fascinating places, as seen and experienced by writer, television host, and relentlessly curious traveler Anthony Bourdain
Anthony Bourdain saw more of the world than nearly anyone. His travels took him from the hidden pockets of his hometown of New York to a tribal longhouse in Borneo, from cosmopolitan Buenos Aires, Paris, and Shanghai to Tanzania's utter beauty and the stunning desert solitude of Oman's Empty Quarter—and many places beyond.
In World Travel, a life of experience is collected into an entertaining, practical, fun and frank travel guide that gives readers an introduction to some of his favorite places—in his own words. Featuring essential advice on how to get there, what to eat, where to stay and, in some cases, what to avoid, World Travel provides essential context that will help readers further appreciate the reasons why Bourdain found a place enchanting and memorable.
Supplementing Bourdain's words are a handful of essays by friends, colleagues, and family that tell even deeper stories about a place, including sardonic accounts of traveling with Bourdain by his brother, Chris; a guide to Chicago's best cheap eats by legendary music producer Steve Albini, and more. Additionally, each chapter includes illustrations by Wesley Allsbrook.
For veteran travelers, armchair enthusiasts, and those in between, World Travel offers a chance to experience the world like Anthony Bourdain.
Editorial Reviews
Charming…Irresistible…An exhilarating and worthwhile choice for those planning an actual trip and for stay-at-home travelers."
—
Library Journal (starred review)
"There will never be anyone quite like Anthony Bourdain. But World Travel offers readers the potential to travel the world as he did."
—
Fortune
Details
Available Formats :
Retail CD, Library CD, MP3 CD
Category:
Nonfiction/Travel
Audience:
Adult
Language:
English
To listen to this title you will need our latest app
Due to publishing rights this title requires DRM and can only be listened to in the Blackstone Wholesale app
DRM (Digital Rights Management) is a copyright protection for digital media. While much of Blackstone Wholesale's content is DRM free, and allows for usage across platforms, select products on Blackstone Wholesale are required by publishers to have DRM protected files. These products will be playable exclusively on the Blackstonewholesale.com apps, available for iOS and Android devices.