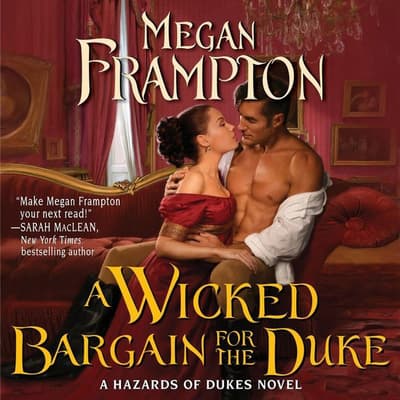 Format :

Retail CD

(In Stock)
Category:
Fiction/Romance
Audience:
Adult
Language:
English
Summary
The author of the "sparkling" and "steamy" (Entertainment Weekly) Never Kiss a Duke returns with the delightful third book in the Hazards of Dukes series as a rigid duke enters into marriage a rebellious lady.
Thaddeus, the new Duke of Hasford, holds his new title reluctantly, but his sense of duty is strong. Task number one: find a wife and secure an heir. He thinks he's found the perfect choice in Lady Jane Capel—until her sister Lavinia bursts onto the scene. Vivacious, rebellious, and strikingly beautiful, Lavinia is determined to keep him away from her shy, sweet sister. And she's also determined not to think so much about his broad chest and strong thighs.
When Lady Lavinia and Thaddeus end up in the most compromising position, witnessed by Lavinia's mother and nearly everyone at a party, they're forced to get married to protect their reputations. With no love between them, but with an heir to conceive, they strike a bargain in bed. Only Lavinia demands passion, and Thaddeus complies, with both of them realizing this marriage of convenience may turn into much more...
Details
Available Formats :
Retail CD, Library CD, MP3 CD
Category:
Fiction/Romance
Audience:
Adult
Language:
English
To listen to this title you will need our latest app
Due to publishing rights this title requires DRM and can only be listened to in the Blackstone Wholesale app
DRM (Digital Rights Management) is a copyright protection for digital media. While much of Blackstone Wholesale's content is DRM free, and allows for usage across platforms, select products on Blackstone Wholesale are required by publishers to have DRM protected files. These products will be playable exclusively on the Blackstonewholesale.com apps, available for iOS and Android devices.