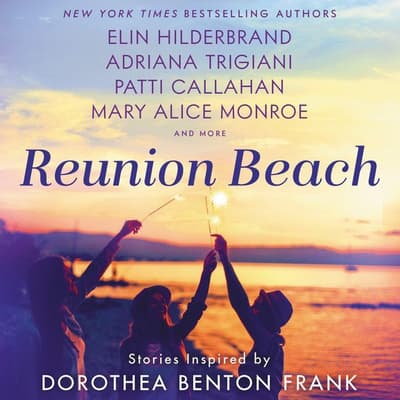 Format :

Retail CD

(In Stock)
Category:
Fiction/Short Stories
Audience:
Adult
Language:
English
Summary
In this warm and moving anthology, a group of bestselling authors and writers pay tribute to legendary, larger-than-life New York Times bestselling author Dorothea Benton Frank and her literary legacy.
Inspired by the title Dorothea Benton Frank planned for her next book—Reunion Beach—these close friends and colleagues channeled their creativity, admiration, and grief into stories and poems that celebrate this remarkable woman and her abiding love for the Lowcountry of her native South Carolina—a land of beauty, history, charm, and Gullah magic she so brilliantly brought to life in her acclaimed novels.
From Elin Hilderbrand, #1 New York Times bestselling author, a sequel to Summer of '69.
From Adriana Trigiani, New York Times bestselling author, comes a heartwarming, humorous interview from the hereafter with Pat Conroy and Dorothea Benton Frank, two beloved icons of Southern literature.
From Patti Callahan, bestselling author of Becoming Mrs. Lewis and Surviving Savannah, comes The Bridemaids, a story about a trip to the South Carolina beach.
From Mary Alice Monroe, New York Times bestselling author, Mother and Child Reunion, a heartwarming story set under the warm South Carolina sun.
Reunion Beach also features letters, short stories, poems, and essays from:
Mary Norris, New York Times bestselling author and staff writer for The New Yorker
Cassandra King Conroy, bestselling and award-winning author of Tell Me A Story
Nathalie Dupree, James Beard Award-winning cookbook author
Marjory Wentworth, former Poet Laureate of South Carolina
Gervais Hagerty, author of In Polite Company
Jacqueline Bouvier Lee, Peter Frank, Victoria Peluso, and William Frank
Infused with Dorothea Benton Frank's remarkable spirit, Reunion Beach is a literary homage and beautiful keepsake that keeps this dearly missed writer's flame burning bright.
Details
Available Formats :
Retail CD, Library CD, MP3 CD
Category:
Fiction/Short Stories
Audience:
Adult
Language:
English
To listen to this title you will need our latest app
Due to publishing rights this title requires DRM and can only be listened to in the Blackstone Wholesale app
DRM (Digital Rights Management) is a copyright protection for digital media. While much of Blackstone Wholesale's content is DRM free, and allows for usage across platforms, select products on Blackstone Wholesale are required by publishers to have DRM protected files. These products will be playable exclusively on the Blackstonewholesale.com apps, available for iOS and Android devices.