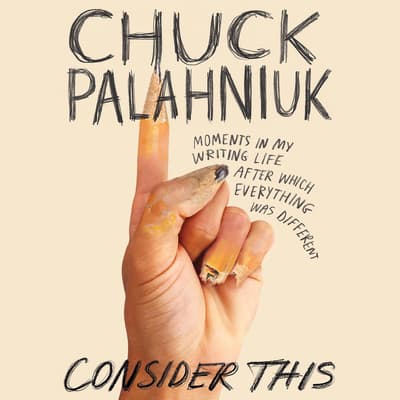 Consider This: Moments in My Writing Life after Which Everything Was Different
Unabridged
Format:

Retail CD

(In Stock)
Available on 01/07/2020

ISBN: 9781549103339

Available on 01/07/2020

ISBN: 9781549103315
Category:
Nonfiction/Biography
Audience:
Adult
Language:
English
Summary
Renowned, bestselling novelist Chuck Palahniuk takes us behind the scenes of the writing life, with postcards from decades on the road and incredible examination of the power of fiction and the art of storytelling.

In this spellbinding blend of memoir and insight, bestselling author Chuck Palahniuk shares stories and generous advice on what makes writing powerful and what makes for powerful writing.

With advice grounded in years of careful study and a keenly observed life, Palahniuk combines practical advice and concrete examples from beloved classics, his own books, and a"kitchen-table MFA" culled from an evolving circle of beloved authors and artists, with anecdotes, postcards from the road, and much more.

Clear-eyed, sensitive, illuminating, and knowledgeable, Consider This is Palahniuk's love letter to stories and storytellers, booksellers and books themselves. Consider it a classic in the making.
Editorial Reviews
"Dark riffing on modernity is the reason people read Palahniuk. His books are not so much novels as jagged fables, cautionary tales about the creeping peril represented by almost everything." —Time, praise for author
"Like Edgar Allen Poe, Palahniuk is a bracingly toxic purveyor of dread and mounting horror. He makes nihilism fun." —Vanity Fair, praise for author
"One of the most feverish imaginations in American letters." —Washington Post, praise for the author
"Chuck Palahniuk's stories don't unfold. They hurtle headlong, changing lanes in threes, and banging off the guard rails of modern fiction…With his love of contemporary fairytales that are gritty and dirty rather than pretty, Palahniuk is the likeliest inheritor of Vonnegut's place in American writing." —San Francisco Chronicle, praise for author
Details
Available Formats :
Retail CD, Library CD
Category:
Nonfiction/Biography
Audience:
Adult
Language:
English
To listen to this title you will need our latest app
Due to publishing rights this title requires DRM and can only be listened to in the Blackstone Wholesale app
DRM (Digital Rights Management) is a copyright protection for digital media. While much of Blackstone Wholesale's content is DRM free, and allows for usage across platforms, select products on Blackstone Wholesale are required by publishers to have DRM protected files. These products will be playable exclusively on the Blackstonewholesale.com apps, available for iOS and Android devices.