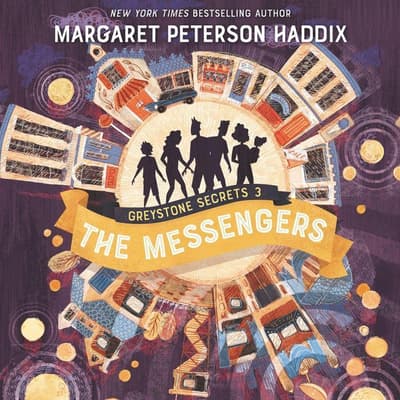 Format :

Retail CD

(In Stock)
Category:
Fiction/Action & Adventure
Audience:
Children (8–12)
Language:
English
Summary
In the dazzling conclusion to the Greystone Secrets series from New York Times bestselling author Margaret Peterson Haddix, the Greystones and their doubles, the Gustanos, must team up to save the alternate world—before both worlds are lost. All secrets are revealed in this page-turning, suspenseful story that shows the importance of teamwork, telling your story, and taking action when it matters most.
As book three of the Greystone Secrets series opens, the Greystone kids have their mother back from the evil alternate world, and so does their friend Natalie. But no one believes the danger is past.
Then mysterious coins begin falling from unexpected places. They are inscribed with codes that look just like what the Greystones' father was working on before he died. And with the right touch, those symbols transform into words: PLEASE LISTEN. And FIND US, SEE US, HELP US. . . .
The coins are messengers, telling the Greystones and their allies that their friends in the alternate world are under attack—and that the cruel, mind-controlling forces are now invading the better world, too.
After another spinning, sliding journey across worlds, the Greystone kids must solve mysteries that have haunted them since the beginning: what happened when the Gustanos were kidnapped, what created the alternate world, and how a group of mismatched kids can triumph once and for all against an evil force that seems to have total control.
Details
Available Formats :
Retail CD, Library CD, MP3 CD
Category:
Fiction/Action & Adventure
Audience:
Children (8–12)
Language:
English
To listen to this title you will need our latest app
Due to publishing rights this title requires DRM and can only be listened to in the Blackstone Wholesale app
DRM (Digital Rights Management) is a copyright protection for digital media. While much of Blackstone Wholesale's content is DRM free, and allows for usage across platforms, select products on Blackstone Wholesale are required by publishers to have DRM protected files. These products will be playable exclusively on the Blackstonewholesale.com apps, available for iOS and Android devices.