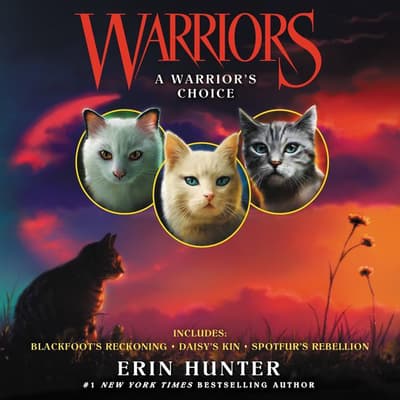 Format :

Retail CD

(In Stock)
Category:
Fiction/Action & Adventure
Audience:
Children (8–12)
Language:
English
Summary
A collection of three thrilling, never-before-seen novellas in the #1 nationally bestselling Warriors series: Blackfoot's Reckoning, Daisy's Kin, and Spotfur's Rebellion.
Discover untold stories about three cats of the warrior Clans: a ShadowClan leader's path to redemption; a ThunderClan cat forced to choose between her past and future; and a young warrior's choice to defy her leader for the good of all five Clans.
Spectacular new adventures await both first-time readers and dedicated fans of the New York Times bestselling series that has sold more than twenty-eight million copies!
Details
Available Formats :
Retail CD, Library CD, MP3 CD
Category:
Fiction/Action & Adventure
Audience:
Children (8–12)
Language:
English
To listen to this title you will need our latest app
Due to publishing rights this title requires DRM and can only be listened to in the Blackstone Wholesale app
DRM (Digital Rights Management) is a copyright protection for digital media. While much of Blackstone Wholesale's content is DRM free, and allows for usage across platforms, select products on Blackstone Wholesale are required by publishers to have DRM protected files. These products will be playable exclusively on the Blackstonewholesale.com apps, available for iOS and Android devices.