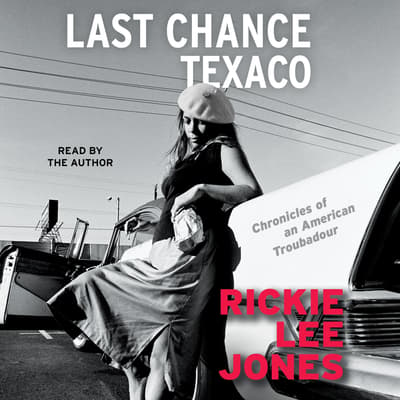 Format :

Retail CD

(In Stock)
Category:
Nonfiction/Biography
Audience:
Adult
Language:
English
Summary
Have you met Ms. Jones?
One weekend night on primetime television, a then-unknown singer and vital part of the burgeoning Los Angeles jazz pop scene skyrocketed to fame overnight after a now iconic performance on Saturday Night Live. The year was 1979, the song "Chuck E's in Love," and the singer, donning her trademark red beret, was the soon to be pronounced "Duchess of Coolsville" (Time), Rickie Lee Jones.
Last Chance Texaco is the first ever no-holds-barred account of the life of one of rock's hardest working women in her own words. With candor and lyricism Rickie Lee Jones takes us on the journey of her exceptional life: from her nomadic childhood as the granddaughter of vaudevillian performers, to her father's abandonment of the family and her years as a teenage runaway, her beginnings at LA's Troubadour club, to her tumultuous relationship with Tom Waits, her battle with drugs, and longevity as a woman in rock and roll.
These are never-before-told stories of the girl in "the raspberry beret," a songwriter who inspired American culture for decades.
Details
Available Formats :
Retail CD
Category:
Nonfiction/Biography
Audience:
Adult
Language:
English
To listen to this title you will need our latest app
Due to publishing rights this title requires DRM and can only be listened to in the Blackstone Wholesale app
DRM (Digital Rights Management) is a copyright protection for digital media. While much of Blackstone Wholesale's content is DRM free, and allows for usage across platforms, select products on Blackstone Wholesale are required by publishers to have DRM protected files. These products will be playable exclusively on the Blackstonewholesale.com apps, available for iOS and Android devices.