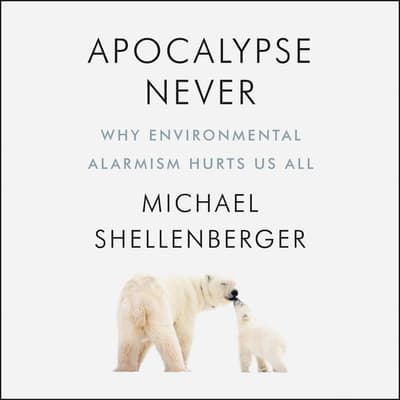 Format:

Retail CD

(In Stock)
Available on 06/30/2020

ISBN: 9781094162294

Available on 06/30/2020

ISBN: 9781094162287

Available on 06/30/2020

ISBN: 9781094162300
Category:
Nonfiction/Science
Audience:
Adult
Language:
English
Summary
Climate change is real but it's not the end of the world. It is not even our most serious environmental problem.
Michael Shellenberger has been fighting for a greener planet for decades. He helped save the world's last unprotected redwoods. He co-created the predecessor to today's Green New Deal. And he led a successful effort by climate scientists and activists to keep nuclear plants operating, preventing a spike of emissions.
But in 2019, as some claimed "billions of people are going to die," contributing to rising anxiety, including among adolescents, Shellenberger decided that, as a lifelong environmental activist, leading energy expert, and father of a teenage daughter, he needed to speak out to separate science from fiction.
Despite decades of news media attention, many remain ignorant of basic facts. Carbon emissions peaked and have been declining in most developed nations for over a decade. Deaths from extreme weather, even in poor nations, declined 80 percent over the last four decades. And the risk of Earth warming to very high temperatures is increasingly unlikely thanks to slowing population growth and abundant natural gas.
Curiously, the people who are the most alarmist about the problems also tend to oppose the obvious solutions.
What's really behind the rise of apocalyptic environmentalism? There are powerful financial interests. There are desires for status and power. But most of all there is a desire among supposedly secular people for transcendence. This spiritual impulse can be natural and healthy. But in preaching fear without love, and guilt without redemption, the new religion is failing to satisfy our deepest psychological and existential needs.
Details
Available Formats :
Retail CD, Library CD, MP3 CD
Category:
Nonfiction/Science
Audience:
Adult
Language:
English
To listen to this title you will need our latest app
Due to publishing rights this title requires DRM and can only be listened to in the Blackstone Wholesale app
DRM (Digital Rights Management) is a copyright protection for digital media. While much of Blackstone Wholesale's content is DRM free, and allows for usage across platforms, select products on Blackstone Wholesale are required by publishers to have DRM protected files. These products will be playable exclusively on the Blackstonewholesale.com apps, available for iOS and Android devices.