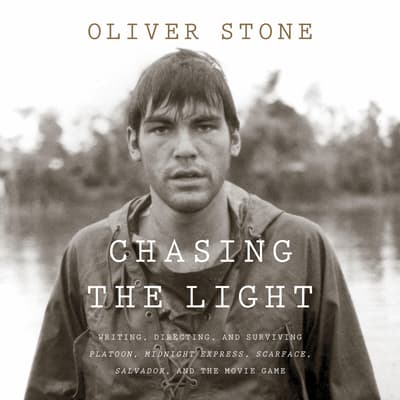 Chasing the Light: Writing, Directing, and Surviving Platoon, Midnight Express, Scarface, Salvador, and the Movie Game
By Oliver Stone
Unabridged
Format:

Retail CD

(In Stock)
Available on 07/21/2020

ISBN: 9780358394204

Available on 07/21/2020

ISBN: 9781094145778

Available on 07/21/2020

ISBN: 9781094145785
Category:
Nonfiction/Biography
Audience:
Adult
Language:
English
Summary
An intimate memoir by the controversial, Oscar-winning director and screenwriter about his rarefied New York childhood, volunteering for combat, and his struggles and triumphs making such films as Platoon, Midnight Express, and Scarface.
Before the international success of Platoon in 1986, Oliver Stone had been wounded as an infantryman in Vietnam, and spent years writing unproduced scripts while driving taxis in New York, finally venturing westward to Los Angeles and a new life. Stone, now 73, recounts those formative years with in-the-moment details of the high and low moments: We see meetings with Al Pacino over Stone's scripts for Scarface, Platoon, and Born on the Fourth of July; the harrowing demon of cocaine addiction following the failure of his first feature, The Hand (starring Michael Caine); his risky on-the-ground research of Miami drug cartels for Scarface; his stormy relationship with The Deer Hunter director Michael Cimino; the breathless hustles to finance the acclaimed and divisive Salvador; and tensions behind the scenes of his first Academy Award–winning film, Midnight Express.
Chasing the Light is a true insider's look at Hollywood's years of upheaval in the 1970s and '80s.
Details
Available Formats :
Retail CD, Library CD, MP3 CD
Category:
Nonfiction/Biography
Audience:
Adult
Language:
English
To listen to this title you will need our latest app
Due to publishing rights this title requires DRM and can only be listened to in the Blackstone Wholesale app
DRM (Digital Rights Management) is a copyright protection for digital media. While much of Blackstone Wholesale's content is DRM free, and allows for usage across platforms, select products on Blackstone Wholesale are required by publishers to have DRM protected files. These products will be playable exclusively on the Blackstonewholesale.com apps, available for iOS and Android devices.