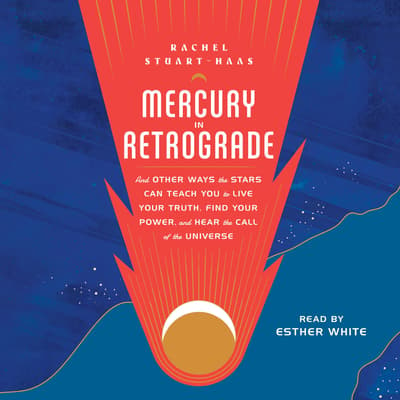 Mercury in Retrograde: And Other Ways the Stars Can Teach You to Live Your Truth, Find Your Power, and Hear the Call of the Universe
Unabridged
Format :

Retail CD

(In Stock)
Available on 06/08/2021

ISBN: 9781797129266
Category:
Nonfiction/Body, Mind & Spirit
Audience:
Adult
Language:
English
Summary
From lunar logic to retrograde real talk, eclipses to asteroids, practicing astrologer Rachel Stuart-Haas breaks down the astrological phenomena that impact your day-to-day life in this giftable guide to the heavens, and what they have in store.

The sun, moon, stars, and other celestial bodies are constantly impacting our lives. They affect our decision making, relationships, communication. They signal change and grant us moments of self-reflection. And, if we let them, they challenge us to grow into the best versions of ourselves.

In Mercury in Retrograde, practicing astrologer Rachel Stuart-Haas takes us on a fun and energizing exploration of the astrological phenomena that guide our lives. Unpacking eclipses, retrogrades, the major and minor aspects, asteroids, and moon wisdom, Stuart-Haas teaches readers how to go beyond their zodiac sun sign and natal chart (how the stars were aligned at their birth) and start thinking like a real astrologer to:
-Align their energies with the Universe
-Time major life decisions to auspicious moments
-Improve their relationships, mental health, and well-being
-Create meaningful rituals for self-care
-And more!

Perfect for armchair astrologists, fans of divination, and anyone looking to improve their relationships, mental health, and overall wellbeing, this wise, delightful, and easy-to-read book provides the first step to reclaiming your life and accomplishing all you've ever dreamed of.
Details
Available Formats :
Retail CD
Category:
Nonfiction/Body, Mind & Spirit
Audience:
Adult
Language:
English
To listen to this title you will need our latest app
Due to publishing rights this title requires DRM and can only be listened to in the Blackstone Wholesale app
DRM (Digital Rights Management) is a copyright protection for digital media. While much of Blackstone Wholesale's content is DRM free, and allows for usage across platforms, select products on Blackstone Wholesale are required by publishers to have DRM protected files. These products will be playable exclusively on the Blackstonewholesale.com apps, available for iOS and Android devices.