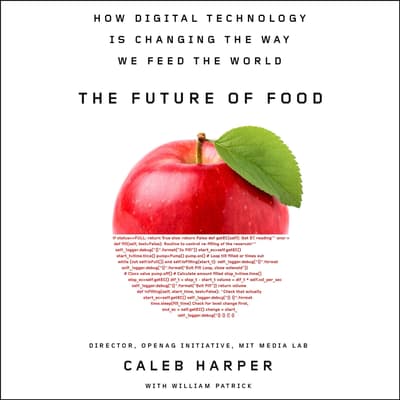 Format:

Retail CD

(In Stock)
Available on 12/30/2050

ISBN: 9781797101422
Category:
Nonfiction/Technology & Engineering
Audience:
Adult
Language:
English
Summary
From the Director of the Open Agriculture Initiative at MIT's Media Lab, the fascinating story of how digital technology is revolutionizing the way we feed the planet, offering surprising solutions to the global food crisis and redefining what it means to be a farmer.

By the middle of this century, we will have nine billion people to feed and nobody who wants to be a farmer. From climate change to pollution, from controversies over GMOs to shrinking water supplies, our current system of feeding the planet is breaking down, delivering less nutritious food to fewer people, making both food insecurity and food waste increasingly commonplace.

While the problem is clear, the solutions have been more difficult to recognize. Now, thanks to Caleb Harper and his Open Ag initiative, a revolution in agriculture is taking place. Inspired to rethink the fundamentals of farming during a visit to Japan in the wake of the Fukushima nuclear disaster, Caleb returned to the MIT Media Lab and started growing lettuce in Dixie cups. While his peers were focused on self-driving cars and robots, Caleb was building an entire farm in the basement of the Media Lab. In the perfectly controlled conditions of his farm, he was able to carefully monitor all the variables that affect a plant's growth and health—water, light, CO2, nutrients, temperature. Using machine learning to analyze the vast amount of data being collecting, he created "climate recipes" for growing the healthiest, tastiest, most sustainable produce in history, anywhere in the world. With the invention of a "personal food computer"/grow-box that he has shared with school children and scientists across the globe, Caleb Harper has laid the foundation for an entirely new model of food production with limitless possibilities.

Fascinating, revelatory, and filled with groundbreaking research and ideas, this book shows how the power of one man's determination and vision are revolutionizing how we will plant, grow, and consume food now and far into the future.
Details
Available Formats :
Retail CD
Category:
Nonfiction/Technology & Engineering
Audience:
Adult
Language:
English
To listen to this title you will need our latest app
Due to publishing rights this title requires DRM and can only be listened to in the Blackstone Wholesale app
DRM (Digital Rights Management) is a copyright protection for digital media. While much of Blackstone Wholesale's content is DRM free, and allows for usage across platforms, select products on Blackstone Wholesale are required by publishers to have DRM protected files. These products will be playable exclusively on the Blackstonewholesale.com apps, available for iOS and Android devices.