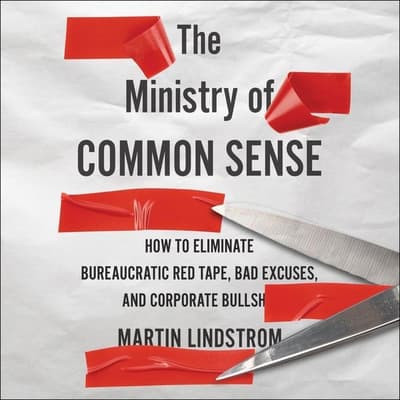 Format:

Retail CD

(In Stock)
Available on 01/19/2021

ISBN: 9780358394402

Available on 01/19/2021

ISBN: 9781094038421

Available on 01/19/2021

ISBN: 9781094038407
Category:
Nonfiction/Business & Economics
Audience:
Adult
Language:
English
Summary
A humorous yet practical five-step guide to ridding ourselves—and our companies—of the bureaucratic bottlenecks and red tape that plague every office

You try to reserve a conference room for a crucial client meeting via your company's new-and-improved computer service, only to find that every conference room is booked–seemingly forever. Your weekly conference call is hijacked by video screens freezing, cords not working, and employees dropping in and out. You then sit through an endless Power Point presentation that everyone claims they've read, no one has, and that could have been summarized in one page.

What has happened to common sense? And how can we get it back? Companies, it seems, have become so entangled in their own internal issues, and further beset by reams of invisible red tape, that they've lost sight of their core purpose. Inevitably, they pay the price.


Best-selling author Martin Lindstrom combines numerous real‑life examples of corporate common sense gone wrong with his own ingenious plan for restoring logic—and sanity—to the companies and people that need it most. A must-read for today's executives, managers, and office workers, The Ministry of Common Sense is funny, entertaining, and immensely practical.

Narrated by Robert Fass. Two-time winner of the prestigious Audie Award as well as numerous AudioFile Earphones Awards, veteran actor Robert Fass has narrated over 200 unabridged audiobooks by modern and classic fiction writers such as Ray Bradbury, John Steinbeck, Saul Bellow, T.S. Eliot, Joyce Carol Oates, Carlos Fuentes, Jeffrey Deaver, and Lee Child, as well as bestselling and prize-winning nonfiction works in history, politics, health, journalism, philosophy, business, and memoir.
Editorial Reviews
The Ministry of Common Sense forces us all to take a hard look in the mirror if we want to take our businesses to the next level to win big – and do so by simply eliminating needless layers of corporate BRIGHT RED tape. Thanks for this book, Martin, because you have saved me from senseless meetings! -Tyra Banks, Supermodel turned Super Businesswoman "You will laugh, you will cry, and you will learn the power of common sense in this incredible gift of a book. Oh, and buy one for your boss too! —Chester Elton, best-selling author ofThe Carrot Principle, All In, and Leading with Gratitude  "Lindstrom proves that, more often than not, the bigger your policy manual the smaller you organization's common sense. More importantly, he shows leaders at all levels how to reverse that alarming trend.
Details
Available Formats :
Retail CD, Library CD, MP3 CD
Category:
Nonfiction/Business & Economics
Audience:
Adult
Language:
English
To listen to this title you will need our latest app
Due to publishing rights this title requires DRM and can only be listened to in the Blackstone Wholesale app
DRM (Digital Rights Management) is a copyright protection for digital media. While much of Blackstone Wholesale's content is DRM free, and allows for usage across platforms, select products on Blackstone Wholesale are required by publishers to have DRM protected files. These products will be playable exclusively on the Blackstonewholesale.com apps, available for iOS and Android devices.