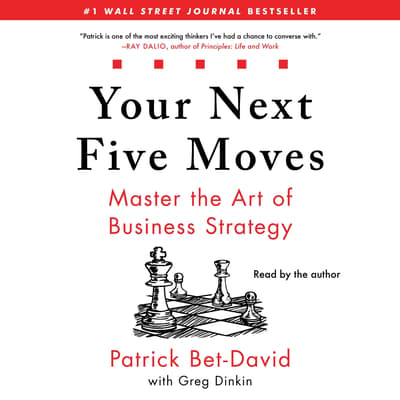 Format:

Retail CD

(In Stock)
Available on 08/18/2020

ISBN: 9781797113357
Category:
Nonfiction/Business & Economics
Audience:
Adult
Language:
English
Summary
From the creator of Valuetainment, the #1 YouTube channel for entrepreneurs, comes a practical and effective guide for thinking more clearly and achieving your most audacious business goals.

Both successful entrepreneurs and chess grandmasters have the vision to look at the pieces in front of them and anticipate their next five moves. In this book, Patrick Bet-David translates this skill into a valuable methodology that applies to high performers at all levels of business. Whether you feel like you've hit a wall, lost your fire, or are looking for innovative strategies to take your business to the next level, Your Next Five Moves has the answers.

You will gain:

CLARITY on what you want and who you want to be.

STRATEGY to help you reason in the war room and the board room.

GROWTH TACTICS for good times and bad.

SKILLS for building the right team based on strong values.

INSIGHT on power plays and the art of applying leverage.

Combining these principles and revelations drawn from Patrick's own rise to successful CEO, Your Next Five Moves is a must read for any serious executive, strategist or entrepreneur.
Editorial Reviews
"Patrick helps entrepreneurs understand exactly what they need to do next." —Brian Tracy, author of Maximum Achievement, praise for the author
Details
Available Formats :
Retail CD
Category:
Nonfiction/Business & Economics
Audience:
Adult
Language:
English
To listen to this title you will need our latest app
Due to publishing rights this title requires DRM and can only be listened to in the Blackstone Wholesale app
DRM (Digital Rights Management) is a copyright protection for digital media. While much of Blackstone Wholesale's content is DRM free, and allows for usage across platforms, select products on Blackstone Wholesale are required by publishers to have DRM protected files. These products will be playable exclusively on the Blackstonewholesale.com apps, available for iOS and Android devices.